Skip to Content
Different Types of Privacy Glass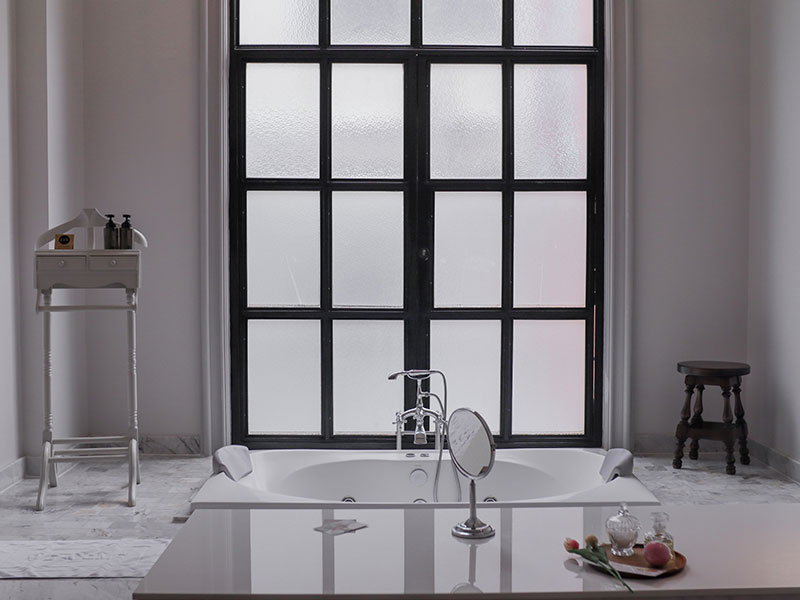 Whether you need commercial glass replacement for your storefront, office, or window glass for your home bathroom, privacy glass has a variety for all applications. They can obscure the view while still allowing ample light to come through.
But what are the different types of privacy glass?
Today, we'll discuss them in some detail so you gain more information about the type of privacy glass that best suits your needs.
Of course, you should always consult glass professionals like A&A Glass in Cherry Hill, NJ for the best privacy glass options for your needs.
That being said, let's dive right in.
Different Types of Privacy Glass
Translucent Glass (Frosted Glass)
Translucent glass, also known as frosted glass, is perhaps one of the most popular types of privacy glass. Clear glass is acid-etched or sandblasted to create an element of privacy. The frosted layer scatters and diffuses the light coming in, distorting the view for privacy.
Translucent glass is a great option for bathroom doors, shower enclosures, outdoor reading corners, and office spaces.
Textured Glass
Textured glass has a pattern or design engraved or etched on the glass surface, diffusing the light and creating privacy. Not only does it provide good privacy, but it also adds a decorative element to the glass with a wide variety of engraving designs.
This type of privacy glass has wide applications in residential and commercial glass, because it complements the interior and exterior. If you want to give your home or office interiors an ethnic feel, textured glass with a complementary design or pattern is ideal for you.
Tinted Glass
Just like textured glass, tinted glass offers dual benefits of privacy and decoration. With a wide range of color options, it can be a contemporary equivalent of the stained glasses of yore. It serves as a focal point and has the ability to give a dramatic look to any interior.
While the glass itself is crystal-clear, the color and level of the tint will dictate the level of privacy. More tint and darker color tones will increase the glass' ability to block the view, but decrease the light coming in.
Tinted glass has varied privacy applications in both residential and commercial glass, but we recommend consulting a trusted professional in Cherry Hill to get the tint or tone that is best suited for your requirements.
Glass Blocks/Bricks
Glass blocks, also known as glass bricks, are one of the most popular types of privacy glass for offices and commercial spaces. They are incredibly aesthetic because they diffuse the light to create an exceptionally charming ambience.
The thickness of the glass block/ brick and its uneven surface texture is more than capable of providing complete privacy, while still letting in most of the light. The thickness of this glass also provides energy efficiency, noise reduction, and better weather resistance.
These are the main reasons why they are a popular privacy glass option for offices and commercial spaces.
One-Way Glass
A common type of privacy glass used in the exterior of buildings is one-way glass. It uses a thin metallic film to reflect some of the light back out, while letting some of it in. The exterior view looks like a mirror, blocking the interior view, whereas the interior view is see-through. This one-way visibility or viewing element is where this glass gets its name.
Switchable Privacy Glass (Smart Glass)
This is the most high-tech and innovative type of privacy glass. It can be switched back and forth between an opaque privacy glass and a clear glass with the click of a button. It uses a Polymer Dispersed Liquid Crystal (PDLC) film that switches on electrically to scatter the light. It can be used in any number of privacy glass applications for residential or commercial use, but is more expensive than other types of privacy glass.
Get Your Free Estimate Today